We left Middelburg on the 11:15 bridge opening, just!! Decided to do engine check before and realised were a tad low on oil so Paul went to Texaco garage over the road for some quickly and got back with about a minute to go before the bridge opened up. Everything was ready to go though so we did make it out, although the incoming boats hadn't realised we were coming out which made leaving entertaining!! Eventually arrived in Goes around 4pm. Weather was beautiful and sea state was also good.
On the way we had a bit of an argument with a waiting pontoon whilst waiting for the big lock to open up. The fender board got caught up and ended up snapping the fender board rope at one end. Recovered it but afterwards discovered had bent the gate stantion, again!!
Picked up a Belgian boat going the same way as us, who we waved to and were friendly with, initially! Then they started trying to overtake us on the narrow canal and wanting to go first, so we 'played along'! It has to be said that the Dutch and Belgians like to be first, whether they actually are or not.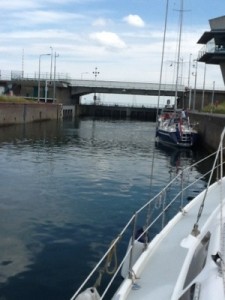 We moored outside the main town, so didn't have to go through the small bridge again which we almost hit with our spreaders last time. Our friends Walter and Yvonne on 'Evening Tide' were waiting for us to catch ropes which was handy as we still had the Belgian boat right behind us getting in the way.
Where we were moored, right outside is a small playground with a slide which was great for Lucy and she made good use of it during our 2 day stay. There was also a great hardware store (Praxis) right across the road as well a sub tropical swimming pool. Whatever that is?
On Tuesday there is a big market in the town. The town itself is quite big with pretty much all the stores you'd need.
19€ a night with leccy.
No washing machine facilities, not even in town